Aug 4, 2021 – –
Every Wednesday Buy One Pizza, Get One Half Price! You can get creative and mix em' up however you'd like. A few minor stipulations 🙂 This is a dine-in only special (of course, you can take one of the pizzas home if you'd like). Your 1/2 priced pizza must be of equal or lesser value....
No Results Found
The page you requested could not be found. Try refining your search, or use the navigation above to locate the post.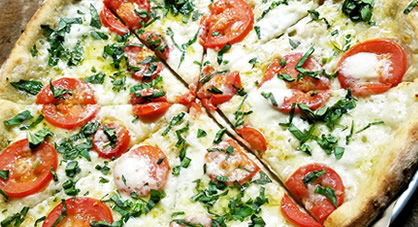 A classic 12" pie with an EVOO base, fresh basil, fresh tomatoes, fresh mozzarella, herbed parmesan and a drizzle of extra virgin olive oil to top it off! This is a fresh and delicious pizza that's good for the body and great for the soul! Pair it with a crisp ale...